Updated on 15 October 2021

CURRENTLY NOT ACCEPTING TRADES.
Sorry. :c

PRICES ARE NEGOTIABLE.
Sales permission granted by
entirelycliched
on 27 July 2013
My feedback is
here
(old) and
here
(new)!

Please read everything carefully! I delete old comments periodically.

Please ask for quotes if not committing (Committed buyers will get priority)
Once committed, please pay within 24 hours. A longer period may be discussed.

Prefer not to have payment plans, but can be discussed if need be.

Prices are in USD and prices do not include shipping, unless otherwise stated.
I ship from USA and I'm willing to ship worldwide if you're willing to pay.

Shipping starts from $4 within US and increases according to weight. All US orders come with tracking (except stamped).
I only accept haggling if you're purchasing a bunch of items!

Trading is NOT accepted at the moment!
I have a very pet-friendly home (cats and dogs).
---------------------------------------------

Quote "pkmn mask pls" in your comment and I'll add in disposable 3ply pokemon masks (3 pieces) in your order.
While stock lasts
-----------------------------------------------------------------------------------

Now onto the Straight sales!!!
Use Ctrl + F to search for your pokemon! :D
--------------------
Mega Tyrannitar Pin
Never removed from packaging.
$5
Pikachu bundle
No tags.
Pikachu backpack and pikachu DX plush
Pikachu DX has some piling.
$20
Banpresto Togepi Plush

Tag is in terrible condition.
Slight yellowing on suction since it's a older plush, but string is still white.
It's very cute.
$20



Pokemon Center Pikachu Santa Plush

Tagged 2014.
BNWT - Will ship with tag protected by cardboard.
Perfect for Christmas

$30
Pokemon Mighty Beans

zigzagoon, grovyle 1, grovyle 2, ash
golem, geodude, nosepass, wynaut
psyduck, golduck

1 for $4,
2 and above: $3 each



Takara Tomy Amaura Plush

Stands fine by itself.
Removed from box because I was moving and ran out of space.
Thought I was going to keep it forever but I ended up deciding to cut down on having too many collection.
$8


Banpresto Ichiban Kuji Prize G pikachu keychain

Brand new in original packaging.
$10
Takara Tomy Pokemon Battle DX capture game set

Brand new in box.
Box has a tear (pic 4) for definitely not for collectors who wants it pristine.
Since it had a tear and was kinda open, I took a picture of the inside (Pic 3).
From what I understand, it's a 2-player game.
You place the pokemon in the center and then you capture the pokemon with your pokeball.
Comes with a regular pokeball and an ultraball and 4 Tomy figures.
The figures are pikachu, serperior, samurott and emboar!
They're also not regular tomy figures that are matte. Instead, they have a pearl finish.
Ask for more pictures if needed.
$30



Pikachu with apples clear file

No creases or anything.
Will pack with cardboard protection if purchased.
$2
or free with purchase





Pokemon Crayons

Unused but all have flaws.
Please refer to pictures. Best is chansey, who only has black marks.

Available: Totodile, Chansey, Psyduck, Pikachu
$1 each
or 1 free per purchase



Banpresto Charmander Watch

Brand new in box.
Never opened so I'm not sure if it works - probably needs batteries.
$20



Pokemon Mascot Plushies

As much as I love them, I have to sell them. :c
I didn't feel like removing them from the ziplock but, please ask for individual pictures if you like.
These are all from JAPAN (not US versions) which makes them more valuable.
All brandnew with tags (not sure about tag condition).

1st row: Substitute, Mega Sableye, Pilot (I believe it's Narita), Mega Altaria, Mega Charizard X
2nd row: Red Gyarados, Mega Audino, Air Stewardess (I believe it's Narita), Mega Lucario, Mega Charizard Y
3rd row: Mega Gardevior, Mega Ampharos, Mega Diancie, Mega Rayquaza
4th row: Mega Lopbunny, Rayquaza, Shiny Rayquaza, Mega Gallade

$30 each for Pilot and Air Stewardess
$40 each for everyone else

Buy pack 1 (row 1&2) for $350 (save $30)
Buy pack 2 (row 3&4) for $300 (save $20)
or buy all at $630 (save $70)



Pokemon 2016 World Series Pikachu Plush

Japan, China, Netherlands

All Brand new with tag.
Tag is creased.
$35 each or all 3 for $100
Pokemon Center Singapore Pikachu Plastic Eco Tote Bag
Brand new with tag.
Dimensions: 18.5" (L) x 20.5" (H) x 8" (W)
$15
Pokemon Center Singapore 1 year Anniversary Face Towels
Poncho Celebi Pikachu (Pink) / Poncho Lapras Pikachu (Blue)
Brand new with tag.
$20 each or $35 for both
Pokemon Chiku-Chiku Sewing Plush
Brand new with tags
$25
Pokemon Center Monthly Pair Pikachu [July 2016]
Brand new with tags
$50
Unknown Pikachu
Stripes are vinyl I believe. No cracking as I can see.
No tags
$5
Free with purchase - Will probably increase shipping
Loungefly Pokemon Keychain
Squirtle / Pikachu
$5 each or 2 for $8
Pokemon Squirtle and Pikachu Sticker Set
Only 1 set available
YGO card for scale.
$1 for the set
or free with purchase
Complete Set of Funko An Afternoon with Eevee and Friends
Brand new in box. Box may have flaws.
Eevee, Jolteon, Flareon, Vaporeon, Sylveon, Espeon, Umbreon, Leafeon, Glaceon

$250
Estimated shipping to be around $30 via UPS ground for US.
SOLD
Funko A day with Pikachu: One Lucky Day
Brand new in box.
$18
Pokemon Moo Moo 4 piece set
Brand new in box.
Comes with 2 bottles and 2 plates.
$150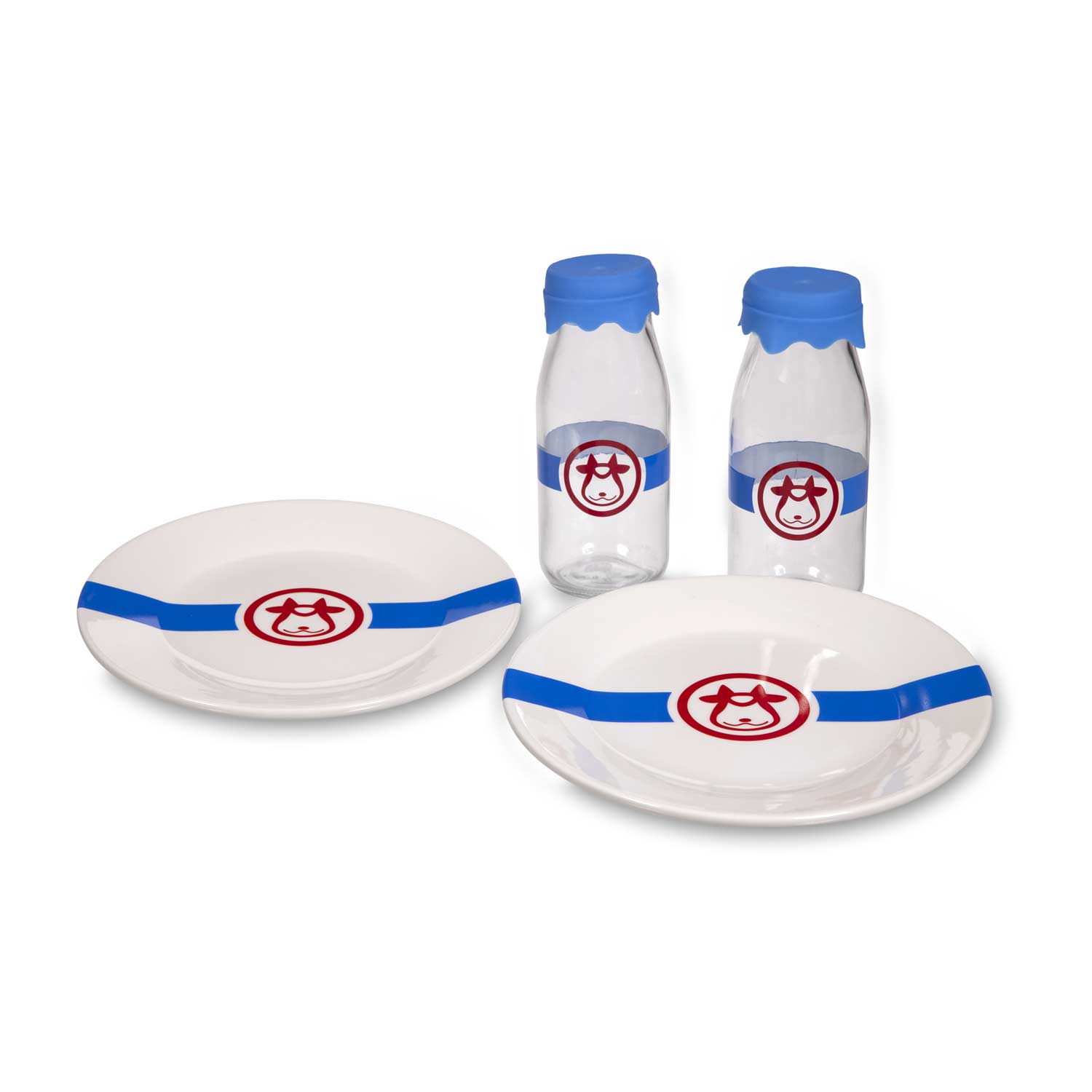 Pokemon Tissue paper
Brand new in pack.
Selling individually or as a set.
$1 each or $5 for all
1. Eevee, dedenne, pikachu
2. Groudon, Kyogre
3. Mega evolution (Scizor, Gengar, Tyannitar, Absol, Lucario, Blaziken, Gardevoir, Charizard X Charizard Y, Gyarados, Mewtwo, Garchomp)
4. fennekin, chespin, pikachu, hawlucha, froakie
5. pikachu all over
6. dedenne, pikachu
Pokemon Center PokeNeco Dolce Brooch set
Brand new in packaging
$35
Pokemon Onemuri Small Plush
$5
or free with purchase
Pokemomo Pikachu Card Holder with Retractable strap
Brand new with tags.
Tags are ok except the back piece (the black warning label or whatever it is) has a crease.
$10
Banpresto Alolan Meowth
Brand new with tag
$2
Free with purchase
Pikachu Shoulder Buddy Plush
Missing the clip, you can find a easy replacement from stores.
$8
Pikachu Pencil Board
Brand new in packaging
$1
or free with purchase
Thank you. (:
Any comments/ suggestions/ questions on pricing, please let me know.
Thank you for viewing!